Layla Bellschmidt

Onijima

Basic Information

Gender
Female
Birthday
Jan. 1st
Age
20
Height
5'1"
Weight
110

Ghoul Information

RC Type
Rinkaku
Rating
C level

Family
Layla Bellschmidt is an Asian immigrant from Germany that was smuggled into London.
Background Information
Edit
There isn't much to say beyond the fact she had to move, a lot. At the age of 16, she finally decided to go off on her own and was eventually smuggled into London where she resides now.
Personality & Behavior
Edit
Layla is known among the area as 'hate-chan'. She hates most things and is a bitter-sweet girl when it comes to people that are close to her.
She isn't your typical 'nice person' though she has her moments. Did you lose your keys? She'll steal someone elses for you. Lose a tooth? Don't worry, she's got you. Lose a leg during battle? ...She'll drag you to safety....or at least attempt.
Since her kagune is meant for close combat, she tends to be near the front lines in conjunction with a tank. As soon as she sees a Bikaku though? Nope. Sorry. On your own. She won't fight them unless they force her to.
Appearance
Edit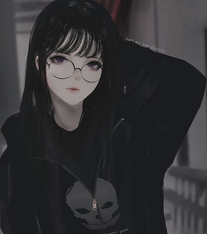 Layla has long black hair and gray eyes, as well as pale skin as white as snow. She looks as if she's a walking corpse, or Casper to some. She wears a lot of baggy shirts and jackets, significantly hiding her slender curves. For some reason, she's always wearing her 'hate' hat unless the dress code calls for something else...like formal.
Scaled tentacle that shoots out of the back of her waist. She's just now beginning to shape it into a claw, or sword of some kind. It looks pretty generic for now, she sprouts at least two from her waist at the beginning of a battle depending on the threat level of the opponent. It's pretty long and reaches past her normal height.
Attributes
Edit
Since her Kagune is a Rinkaku, she has significant regeneration abilities.
Tends to learn down to a T all the hiding places in her area to avoid the investigators.
| Strength | Speed | Durability | Stamina | Intelligence | Perception | RC Factor | Total |
| --- | --- | --- | --- | --- | --- | --- | --- |
| 2 | 4 | 2 | 3 | 3 | 4 | 4 | 22 |
Role-play Library
Edit
Spars/battles
Edit
Storyline
Edit
Approved by
Edit
(Here an admin or mod of the site will put down their signature to show your profile is complete or finished.)